Race for ACE Virtual 5k! Nov. 20th - Nov. 30th!
Run your own virtual race ~ right where you are!
Join us for Camp Agapé's 3rd Annual 5K, Run & Walk on November 20th - 30th to benefit the Agapé Center for Environmental Education (ACE Ed) program. This year, our 3rd annual Race for ACE will be our first COMPLETELY VIRTUAL event! Everyone who registers can participate from the safety of home, in their neighborhood, or even on the mapped out 5K course at Camp Agapé!
Run your own virtual race at your pace, on a treadmill, in a park, alone or socially distanced with a group of friends. Just get moving . . . run for a great cause!
Sign up and be entered into a drawing for a $50.00 gift card just for registering! 5 gift cards means 5 gift card winners!
Every Race for ACE participant will receive a T-shirt, Medallion, and a Finisher Certificate.
Register by 5:00 PM October 31st to guarantee your shirt size and receive your shirt, medallion, and certificate before race week.
Check back often for event updates and more on how you can participate or sponsor!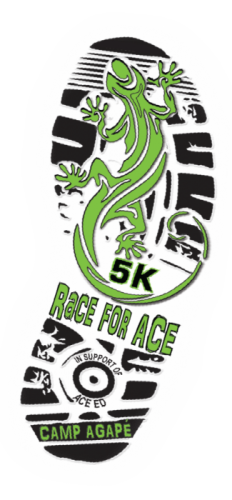 Richard & Susan Rohrbaugh
Forestry Services, Inc
The Perry Family
John Guran
Katie & John Neuhauser
Gary Stivland
Help us bring 100 kids in need to a week of faith-based residential camp.
Through the "Reach 100" challenge, A†KB hopes to assist campers in financial need as well as provide each child with a positive and lasting impression of their value as a child of God.